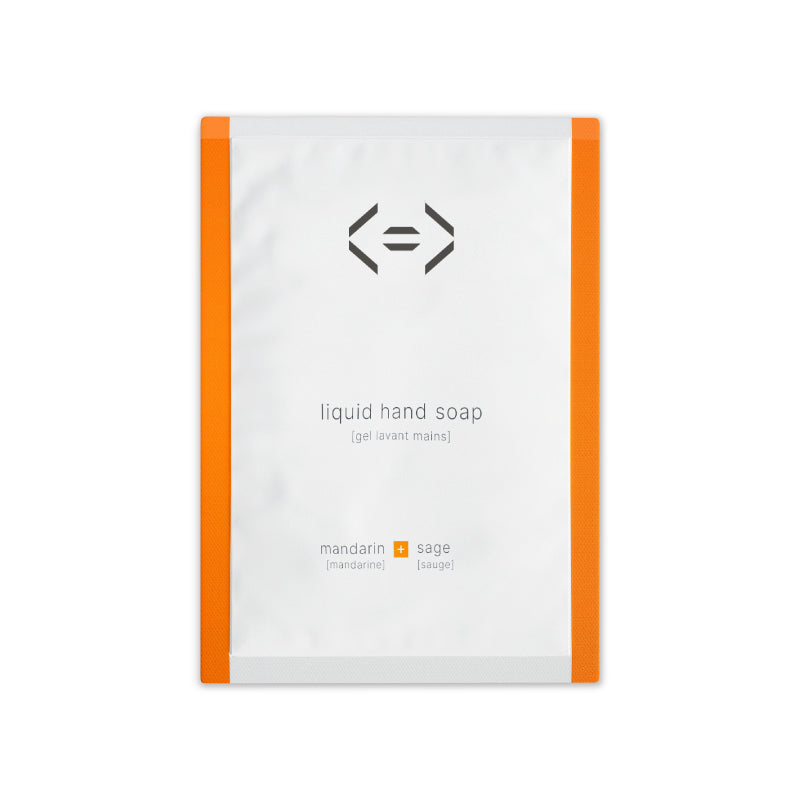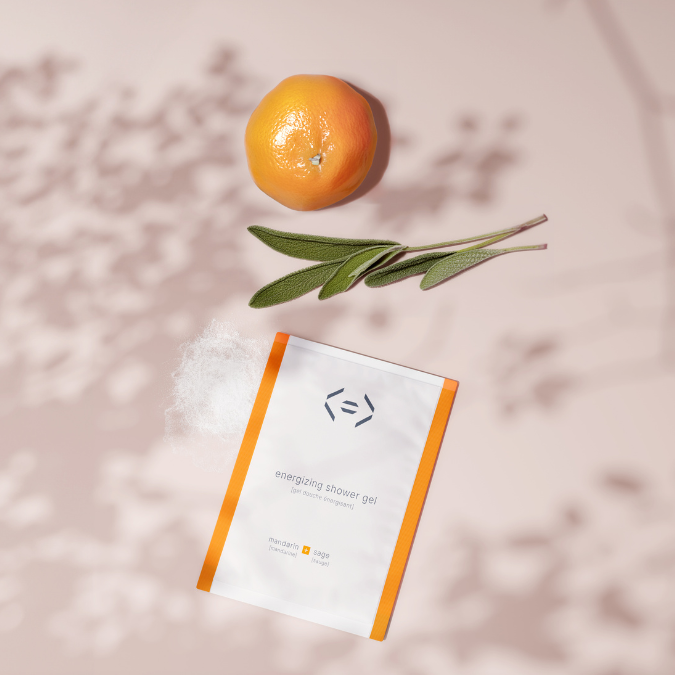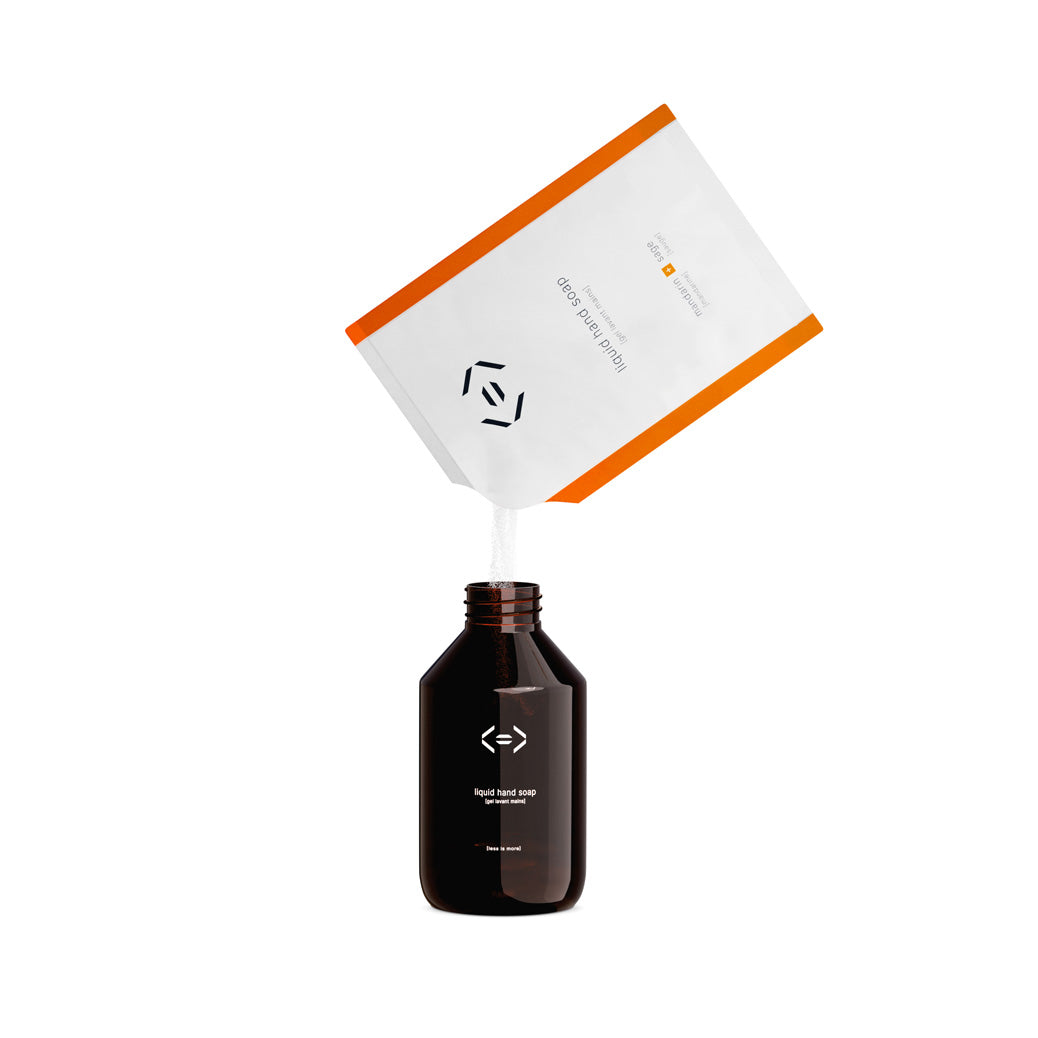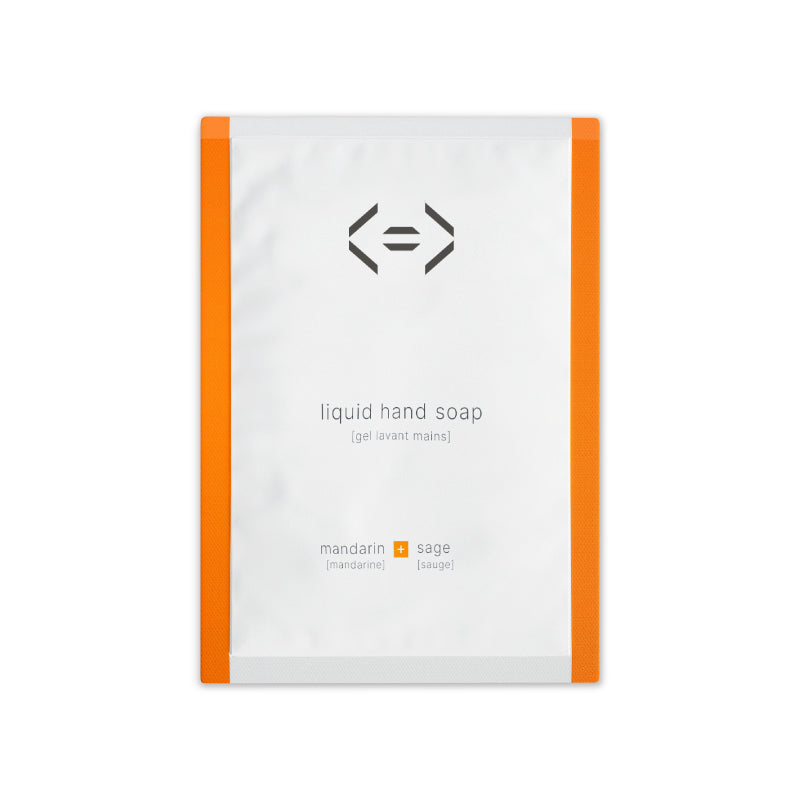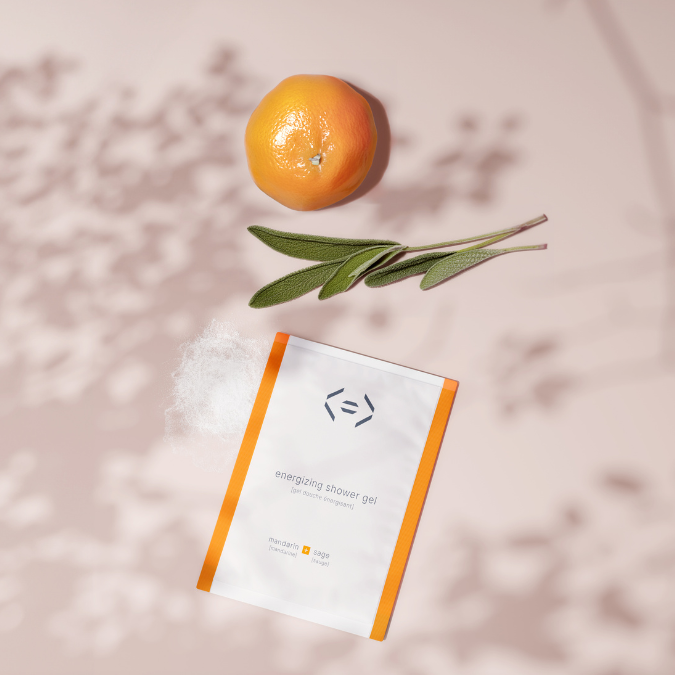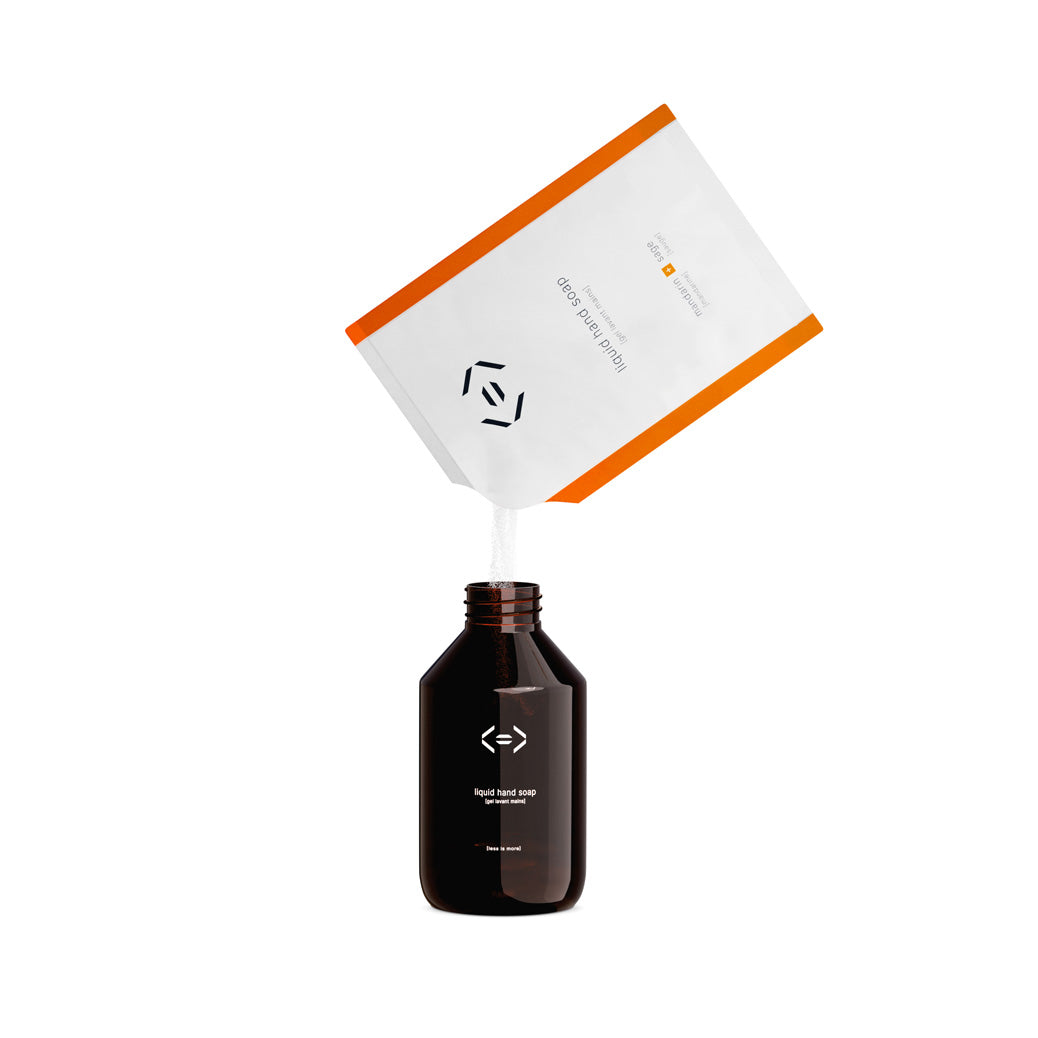 juicy hand soap
mandarin + sage
$9.00
A cleansing experience that truly boosts your mood. Its fluid-gel texture develops a rich lather that rinses off easily to leave your hands feeling soft, moisturized and delicately fragranced with the juicy burst of mandarin and the aromatic fusing facets of purifying sage.
Paper sachet with 25g of active ingredients in powder form, to be mixed with water for 250 ml of high-quality liquid hand soap (about 100 usages).
Note:
 this product is a refill and does not include a bottle. Please use your own, or get both the refill and bottle with 
one

 

of our starter kits
.
free shipping on orders over €30
a true mood booster
bright and zesty, the juicy burst of mandarin is balanced by the aromatic fusing facets of purifying sage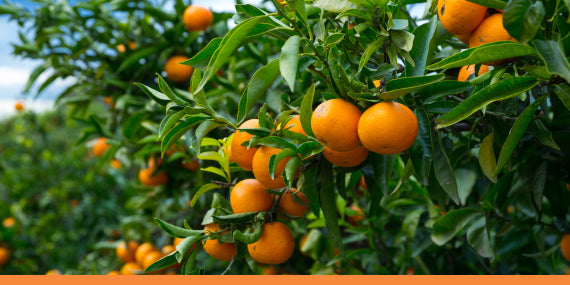 mandarin
Mandarins are small citrus fruits that belong to the same family as oranges, but are smaller, sweeter and are easier to peel. They have a sweet and tangy scent, known for its soothing qualities. Our mandarin essential oil is extracted from the citrus reticulata blanco, growing in southern Italy.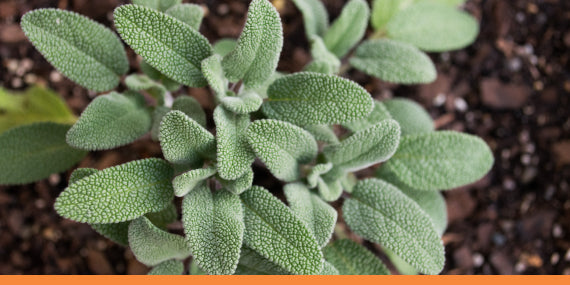 sage
Clary sage is a flowering herb with an earthy aroma alongside a herbaceous scent, and crisp green notes. Its scent is known for its ability to stimulate, clarify and uplift the mind. Our clary sage essence is sustainably sourced from the salvia sclarea, grown in the Vaucluse area in southern France.
learn more >>
mandarin + sage
the extraction of our essential oils
mandarin
The mandarin fruits are harvested from November to March, and their essential oil is extracted by grating the zest under running water, which is then separated from the water by centrifugation. This typical Italian technique is called "pelatrice." Subsequent distillation generates a colourless essential oil.
sage
The clary sage flowers and stems are mechanically harvested in summer, and distilled into an essential oil, bringing out fresher aromatic notes, and extracted into an absolute* with heavier and darker herbaceous notes.
*Absolute oils are a more concentrated substance, also derived from plant material but through a different extraction method (solvent extraction). Absolute oils are stronger in scent, have a thicker consistency, and have an amber like color, whereas essential oils have a lighter scent, watery consistency, and a light, clear color. As a result of their stronger scent, absolutes are commonly used in perfumery.
meet our perfumers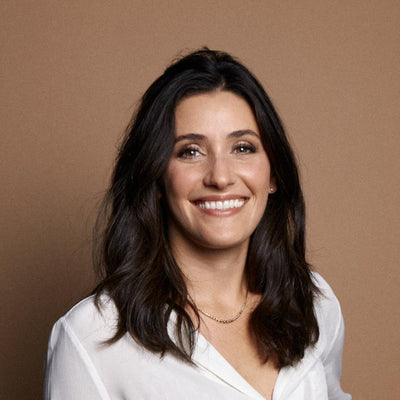 mara penchansky
"Perfume is an art that doesn't have a form, and which develops through time."

read bio >>
mara penchansky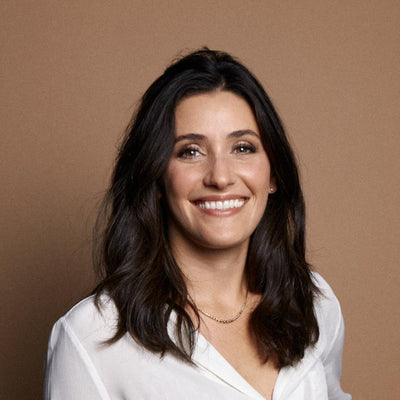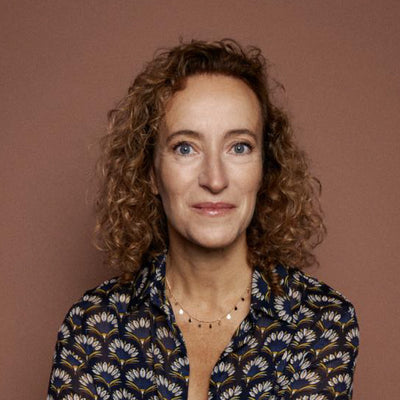 isabelle abram
"It brings me joy to know that my fragrances will be used in a bathroom somewhere, hopefully bringing pleasure, serenity and a moment of quiet to whoever uses it."

read bio >>
isabelle abram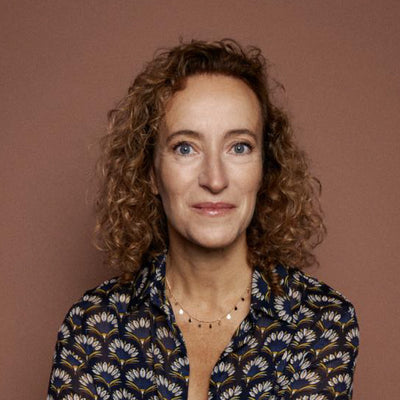 refer your friends to get them €5 off their first order!
when they make their first purchase, you also get €5 off your next order*
invite my friend >>
*There is no limit to the number of friends you invite, but you can only use 1 single €5 voucher in a single purchase.