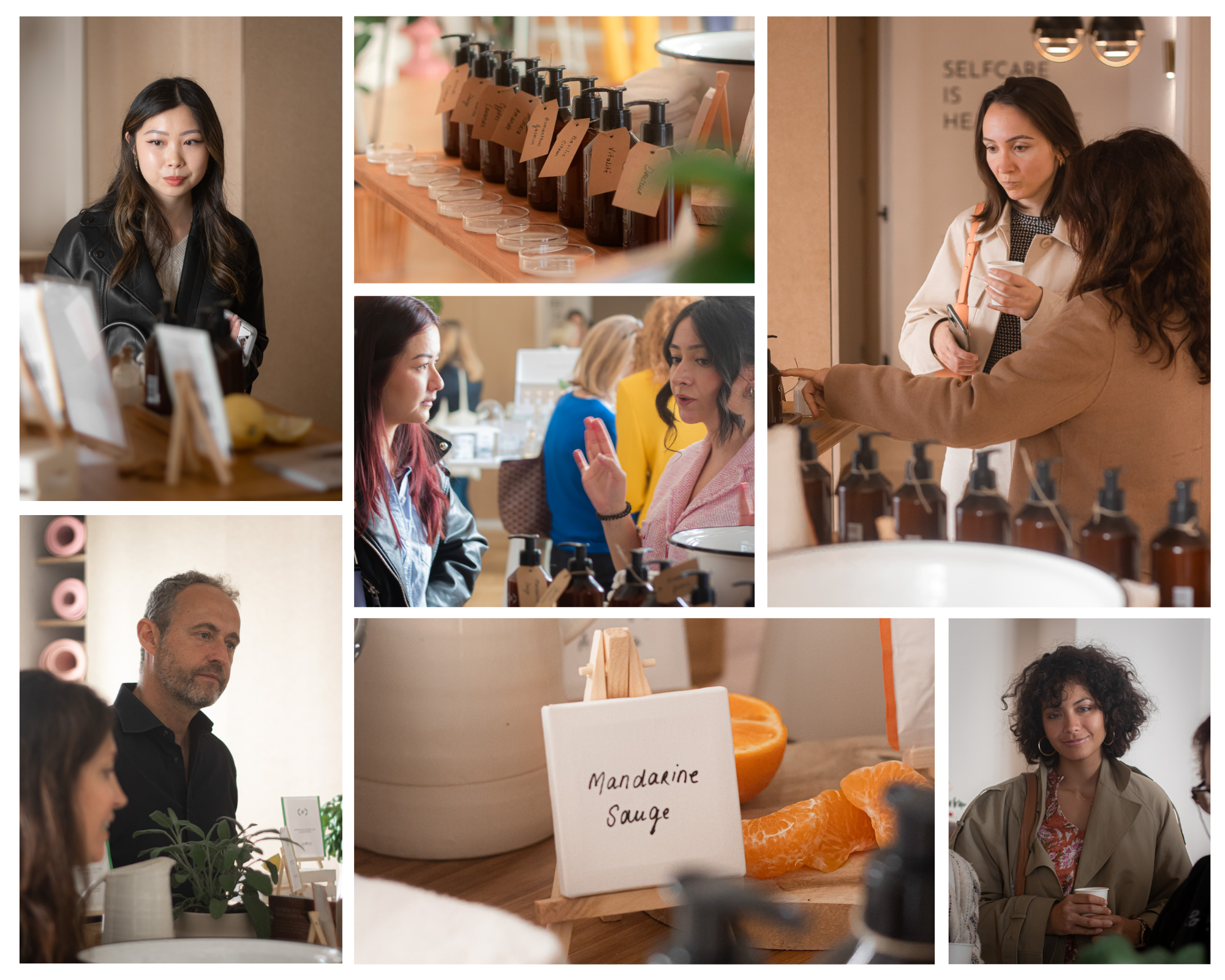 press and content creator event
We made waves at our inaugural press event on May 24th, capturing the hearts of both influencers and journalists with our 'less is more' concept range of shower gels, hand soaps, and shampoos. The event, held at the picturesque Charlotte Muller yoga studio in Paris, allowed us to showcase our eco-responsible products, innovative packaging, and captivating fragrances, garnering immense praise and signalling a new era in the beauty industry.
Location
Paris
The 24th of May was a significant day for us, as we took part in our first ever press event – a milestone in turning our dream into a reality. Leading up to the event, we couldn't contain our excitement – we were finally going to share our 'less is more' concept range with the public.
Organized by PR agency B le Buro, the purpose of the event was to gather influencers and journalists in one location, in order to introduce them to a variety of both new and well established brands. Influencers attending the event included Anne Orin, Magic Tia, and Morgane Miller. The journalists making up the guest list came from publications such as Elle, Côté Santé, Avantages, and Voici. 
Held at Charlotte Muller yoga studio  – a beautiful and brand new studio in the heart of Paris, dedicated to well-being, self-care, and sustainability – it was the perfect venue for us to showcase our products for the very first time. Picture a chic and minimalistic space, with muted and soothing pastel colors. A match made in heaven in our opinion! We were also joined by other conscious and inspirational beauty brands, such as St Tropez, Condensé Paris and Weleda, which was a valuable experience. We firmly believe in the power of collaboration, and being able to exchange ideas and stories with other entrepreneurs was a highlight for us. 
In terms of turnout, it was a great success. Around 40 people were able to experience our range and discover the amazing textures and fragrances, as well as the high quality, of our shower gels, hand soaps and shampoos. As the founders, we considered ourselves incredibly lucky to have been given the opportunity to present our concept in person, and to witness the enthusiasm that the attendees felt when learning about who we are and what we do. One challenge was that we were on a time limit – the event only spanned for half a day, with many of the attendees having very busy schedules. Summarizing something that you have spent months working on is tricky – especially when our brand has so many layers from how to mix and use our products, the ingredients and their benefits, to how we integrate sustainability with everything that we do. Nevertheless, this was a good chance for us to practice living 'less is more,' as we shared our passion for our cause and explained that we're not just a brand, we're a movement. Overall, the feedback we were given was immensely positive and our concept was well received.
"This concept is brilliant. 100% eco-responsible products made with natural ingredients. We receive small sachets of powder and all we have to do is mix it with water and we get our shampoo, shower gel or hand soap. Incredible isn't it?" - @caamillec_
An interesting learning was that sustainability challenges are a real concern for most people. Many of the journalists at the event confirmed that their readers, and consumers in general, are seeking out simple and effective solutions that enable them to take care of the planet, without compromising on their own well-being and the quality of the products they use. 
The influencers and content creators were also very excited about our range, with many of them being quick to shoot videos and photos of our products to share on social media. They loved the look of our packaging, thought that our concept was very innovative, and were convinced that brands like ours would, indeed, create a new way for beauty. They were also very impressed by the fragrances of our range. Watching them try the different products and discuss their favorite fragrance, and the emotions each scent evokes, was a really fulfilling experience - we've spent months developing our signature fragrances. Another interesting learning was our neroli + citron blend was the most popular. 
We received a lot of good feedback regarding the efficacy of our products. Many of the influencers and content creators had not had a positive experience with waterless products – such as solids and powders – or even natural products, and were pleasantly surprised by our hand soaps. A lot of them commented on how well the product foamed, and how soft and supple it made their skin feel. 

"I tested the @wearelessismore brand, an eco-responsible brand with a minimalist design and high quality products with the least possible negative impact. To my greatest surprise, the smell is divine, the texture excellent and IT FOAMS (very important for me)." - @lisa.bpro
After a jam-packed day at the event filled with meeting new people, inspiring and insightful conversations, as well as product testing and content creation, we felt very grateful. Exposure on social media, and more traditional media such as magazines and publications, is crucial in order for our movement to gain traction and awareness. Getting others to join our cause, and work with us towards creating a more sustainable future, is the only way we'll be able to make a real difference. In addition to all of the Instagram stories created by the influencers and content creators, many of the journalists are planning to feature us in articles, along with our range of products and our concept. The more support and visibility our movement gets, the better. We need people to believe in the power of less, and realize that real change is possible and is happening right now, with us. We cannot wait for the next steps in our journey!
"The clean beauty brand @wearelessismore who will shake the world of solid cosmetics." - @stylistfrance
If you are an influencer, content creator, or journalist, are passionate about sustainability and creating a positive impact, and would like to work with us, please get in touch via this form.